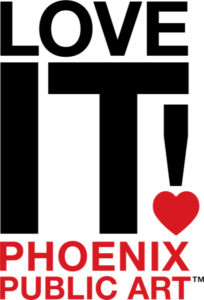 The LOVE IT! Phoenix Public Art campaign creates awareness, pride and appreciation for public art assets in the city of Phoenix.
In addition to promoting public interest and awareness, the LOVE IT! Phoenix Public Art campaign provides educational services, programs, tours, and nonprofit support to advance the maintenance and restoration of the public art collection in the city of Phoenix, Arizona.
LOVE IT! Phoenix Public Art spotlights how Phoenix public art:
Bolsters economic development by generating a more beautiful city, where companies are able to attract and retain  employees who want to live, work and play.
Enhances civic pride in neighborhoods.
Creates a more interesting, culturally diverse community where appreciation for arts and culture is abundant.
Promotes healthy communities and outdoor exercise via the beautification of walking paths and public park amenities.
Provides a welcoming environment for enjoyment of the outdoors.
Fosters engagement with neighborhood public art assets.
Reminds citizens that art is a city value and a tremendous necessity that helps to propel resident pride forward.
Prevents city/real estate decay and abandonment of common citizen areas.
Protects our city from urban deterioration.
LOVE IT! promotes public interest and awareness of indoor and outdoor public art in the city of Phoenix as well as promotes artists and special events associated with public art.
This includes promoting awareness of indoor and outdoor public art in the city of Phoenix at public parks, historic sites, municipal buildings, outdoor recreation areas, water canals, bus stops, light rail stations and nearby transportation facilities, city museums, and performance theaters containing public art.
Friends of Phoenix Public Art thanks Julie Wolf and Thinking Caps Design for the spectacular campaign logo design!
Other participating LOVE IT! community partners to date include The Cause Collection, ACME Prints, and Jane N' the Jungle.