Like many archaeological institutions of the early 20th century, Pueblo Grande Museum was established by archaeologists and enthusiasts who excavated, researched, and preserved Native American cultures as curiosities. Though the perspectives of the time now seem antiquated, the early work at Pueblo Grande laid a foundation on which to build.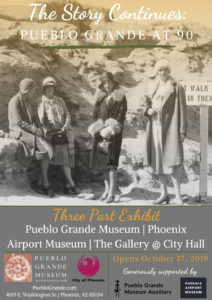 The location of the Museum within an archaeological site encourages partnerships between the City of Phoenix, archaeologists and Native communities. We work together to tell the stories of early Sonoran Desert peoples in informative and compelling ways.
Voted a Phoenix Point of Pride and listed as a National Historic Landmark, the Museum promotes preservation, education and collaborative interpretation of the cultural history of the Phoenix area. Explore this gallery for more about Pueblo Grande Museum's extensive collections and history. This is who we are, where we came from, what we learned and the exciting place we start from for the next 90 years. Join us in celebrating. 
Visit the Three-Part Exhibit!
Three exhibits located at The Gallery @ City Hall, Pueblo Grande Museum, and the Phoenix Airport Museum.
Exhibit runs until October 2020.