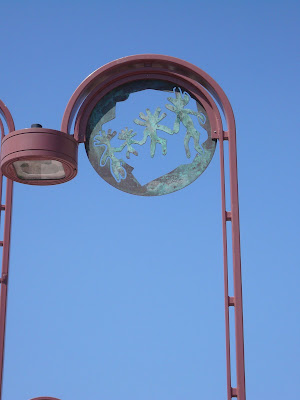 Thanks to a generous grant from the Freeport-McMoRan Foundation, Friends of Phoenix Public Art will celebrate a new Gallery @ City Hall installation in 2022 featuring copper and public art. Friends of Phoenix Public Art will introduce the new installation at an opening ceremony when Phoenix City Hall is reopened, date to be determined. Stay tuned!
The Central Avenue Medallions was the first Phoenix Public Art project, and was designed to contribute to the unique character and identity of Central Avenue. Four artists, Juan and Patricia Navarrete of Taos New Mexico, Doug Weigel of Scottsdale, and Howard Sice of Tucson were asked to collaborate on the forms using Native American petroglyph images as the basis for their design but to elaborate on them through their own imaginations.
The installation will run from 2022 to 2023, and will share the story of copper and Phoenix public art, spotlighting the iconic installation on Central Avenue featuring 300 medallions made from Arizona copper, with 22 designs that are 39 inches in diameter. The installation will share the story of copper in Arizona, and how copper has influenced art in Phoenix, including this very first public art display.